This is a video contest
- first post your video on YouTube. Then enter the URL on the contest registration form
Virgin Mobile Canada || National Fearless Day
and you could WIN five thousand bucks!
Sir Richard Branson
himself will be judging the videos and awarding the prize. All this to occur on
November 19th
.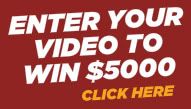 Branson is pretty qualified to judge 'fearless' - he sailed the North Atlantic in an open boat in the nineties and floated around the world in a weather balloon after that, and his company Virgin even launched the first passenger spaceship back in 2003.
What have you done? If you have done something fearless, then you could win $5k plus meet Richard Branson on Nov 19