hustle and heart are two words that sum up this next player perfectly
Full Name: David William Cowens
Born: 10/25/48 in Newport, Ky.
High School: Newport Central Catholic
College: Florida State
Drafted by: Boston Celtics (1970)
Transactions: Traded to Milw., 9/9/82
Height: 6-9; Weight: 230 lbs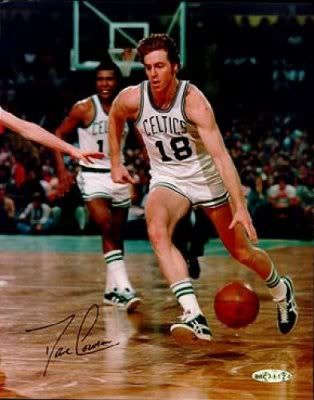 Career Stats
G- 766
FG%- .460
3PFG%- .071
FT%- .783
Rebs- 10,444
RPG- 13.6
Asts- 2,910
APG- 3.8
Stls- 599
Blks- 488
Pts- 13,516
PPG- 17.6
Honors
Elected to Naismith Memorial Basketball Hall of Fame (1990); NBA champion (1974, '76); NBA MVP (1973); All-NBA Second Team (1973, '75, '76); All-Defensive First Team (1976); All-Defensive Second Team (1975, '80); NBA co-Rookie of the Year (1971); Seven-time All-Star; All-Star MVP ('73); One of 50 Greatest Players in NBA History (1996)
Dave Cowens earned a berth in the Basketball Hall of Fame because of his tenacity and work ethic as a mainstay of the Boston Celtics in the 1970s, leading the team to NBA Championships in 1974 and 1976. Playing in the era of Julius "Dr. J" Erving, Wilt "the Stilt" Chamberlain, and "Pistol Pete" Maravich, Cowens didn't possess the flash and glitz of those high-profile superstars. Instead, it was Cowens' consistency, work ethic, unselfishness, versatility and energy that established him as one of the most solid and respected centers in recent NBA history.
Of his 11 years in the league, all but one was spent with the Boston Celtics. An unlikely hero in a sport dominated by men of greater size and natural ability, the red-haired lefthander relied on hustle and heart to achieve NBA greatness. His determination helped to resurrect a Celtics dynasty presumed dead after the departure of legend Bill Russell. Cowens ultimately joined his venerated predecessor in the Hall of Fame, a feat he never dreamed of achieving.
"I never thought of myself as a superstar," Cowens said on the eve of his Hall of Fame induction in 1991. "I represent the working class of the NBA. I'm honored they've selected me, because I could name a whole lot of guys who were better than Dave Cowens. You have to play with the right people and get picked by the right team. Let's face it -- I was pretty lucky."
At age eight, Cowens played on his first basketball team and seemed to take to the sport. However, during his freshman year at Newport Catholic High School, Cowens had a conflict with his coach and quit the team. He turned to swimming and track and field, and it looked as though the young Cowens, a modest 6-1 at the time, would never return to the basketball court. If it wasn't for a five-inch growth spurt between his sophomore and junior years, Cowens' name might have never been known beyond his hometown of Newport, Ky.
At the start of his junior year Cowens stood 6-6, and the junior varsity team had a new coach. At the end of his second junior varsity game, Cowens remained in uniform, played three quarters for the varsity squad, and never looked back. During his senior year, Newport took its 29-3 record to the state tournament. That year Cowens averaged 13 points and 20 rebounds -- stats that predicted his future prowess close to the hoop.
Although he was sought by nearly every college in the Ohio Valley Conference, Cowens was not actively pursued by Kentucky's Adolph Rupp. Feeling snubbed, Cowens went against the advice of his father, who wanted him to stay in Kentucky, and chose Florida State University, a school not known for producing NBA-level talent. Also, FSU's basketball program was on probation at the time for recruiting violations, raising more doubts about Cowens' decision.
But Cowens liked Florida State's coach, Hugh Durham, who promised the prep star a starting spot as a sophomore and made Cowens feel as though his abilities would be put to good use. "He wasn't a great scorer," the FSU coach would later say. "But he could rebound, and that's what we needed."
Cowens definitely could rebound, pulling down 1,340 boards during his three varsity seasons in Tallahassee. He also scored 19.0 points per game and shot .519 from the floor. In addition, Cowens ran the court, meshing perfectly with the Seminoles' fast-breaking offense and helping the team improve from 11-15 to 18-8 to 23-3 during Cowens' senior year, when he finished seventh in the nation in rebounding.
Celtics General Manager Red Auerbach realized that he needed someone to at least attempt to fill the shoes of Bill Russell, whose retirement after the 1968-69 championship season left the Celtics a team that could only muster 34 wins the following year, despite the presence of the great John Havlicek. He liked Cowens' hard-working attitude and work ethic, so Boston made Cowens the fourth overall pick in the 1970 NBA Draft, behind Bob Lanier, Rudy Tomjanovich and Pete Maravich. "He's a very dedicated kid," Auerbach said at the time. "A dedicated kid isn't unheard of, but there aren't as many around as we would like. But our problem with Cowens is telling him when to lay off. He does too much."
One of the things Cowens did too much in his rookie year with the Celtics was foul other players; he committed a league-high 350 infractions. (He would foul out of 90 games by the end of his career, a total that ranks among the top 20 of all time.) But he also averaged 17.0 points and 15.4 rebounds, the most ever by a first-year Celtics player besides Bill Russell. Cowens' achievements earned him a share of the NBA Rookie of the Year honors, with Geoff Petrie of the Portland Trail Blazers. The Celtics improved to 44-38, and Cowens quickly won accolades for his hustle, mobility, tenacity and unselfish approach to the game.
At 6-9 and 230 pounds, Cowens certainly was neither the biggest nor the most overpowering center in the league, particularly when compared to the likes of Lanier, Kareem Abdul-Jabbar and Wilt Chamberlain. His versatility and energy were his greatest assets, along with a willingness to sacrifice his own scoring total -- and his body -- for the good of the team.
Cowens ran baseline to baseline, set picks, made heady passes, participated in full-court presses, blocked seemingly unblockable shots, dived into the crowd after loose balls, muscled through the paint for tip-ins, and generally made himself a nuisance to Celtics opponents. He once broke his foot in an exhibition game by slamming into a basket support while blocking a shot.
"I thought he was a wild man," former teammate Paul Silas said. "I'd never seen anybody with that much talent play that aggressively." Cowens's tenacity came to the fore in a game against the New York Knicks in his rookie season. Already burned once in the contest by a head fake from Dave Stallworth, Cowens retaliated by coming out of nowhere to block a two-handed dunk attempt by Stallworth. The amazing rejection brought the Boston Garden crowd to its feet, and brought Cowens a step closer to acceptance by tough-sell fans in a town synonymous with basketball excellence.
Cowens improved to 18.8 points per game on .484 field goal shooting in his second NBA season as the Celtics adjusted to life without Russell. In his first of six All-Star Game appearances, Cowens scored 14 points and pulled down a game-high 20 rebounds. Cowens' game-tying jump shot with 11 seconds remaining was answered by Lakers' guard Jerry West's buzzer-beating, 20-foot running jumper in front of the hometown Los Angeles crowd. The Western Conference won the game, 112-110.
At season's end, Boston had recaptured the Atlantic Division title-the first of five straight-with a 56-26 record. But after getting past the Atlanta Hawks in the conference semifinals, the Celtics lost to the Knicks in five games in the Eastern Conference Finals.
In the 1972-73 campaign, Boston honed its fast break while Cowens perfected his rebounding skills, averaging 16.2 boards, third best in the league behind Chamberlain and Nate Thurmond. Playing in every game and logging 41.8 minutes per night, Cowens posted a career-high average of 20.5 points. In just his third season, Cowens joined legends Bob Cousy and Bill Russell as the only Celtics to win the league's Most Valuable Player Award. At the time, the award was given according to a vote of players.
"Being named the MVP by my peers meant a lot to me," Cowens told HOOP magazine in 1992. "I was always out to gain the respect of the players. They are the only ones who understand your work habits." That year Cowens added an All-Star MVP Award, tallying 15 points and 13 rebounds in the midseason showcase in Chicago.
The Celtics finished the 1972-73 campaign with a stunning 68-14 record, by far the league's best. But Boston lost in the Eastern Conference Finals to the eventual NBA-champion New York Knicks in a seven-game heartbreaker. The Celtics had fought back from a two-game deficit to even the series at three games apiece. But with Havlicek hobbling, the Celtics managed only 78 points in Game 7, losing 94-78.
Although crushed by the Knicks' victory, the Celtics once again began to construct a winning team around a hustling lineup that included Cowens, Havlicek, Jo Jo White, Don Chaney and Paul Westphal, along with cagey veterans Paul Silas and Don Nelson. "Celtics Pride" returned to full bloom in 1973-74, a year in which Cowens averaged 19.0 points, 15.7 rebounds and 4.4 assists, leading Boston to a 56-26 record and the top spot in the Atlantic Division.
After dispatching the Buffalo Braves in six games and a weakened Knicks squad in five, Boston met the Milwaukee Bucks in a memorable seven-game NBA Finals. Boston played strong in Milwaukee, winning Game 1 and losing Game 2 in overtime. The teams split the next four games, with the Bucks winning Game 6 at Boston Garden on an Abdul-Jabbar hook shot with three seconds left. In Game 7 at Milwaukee, a contest which many had expected Havlicek to dominate, the Celtics gave the ball to Cowens instead. He responded by scoring 28 points and snagging 14 rebounds to lead the Celtics to a 102-87 victory.
The word "dynasty" was once again used to describe the Celtics as the team's winning ways continued through the mid-1970s. In 1974-75, Boston again reached the 60-win mark in repeating as Atlantic Division champs. Cowens was named to the NBA All-Defensive Second Team, the first such honor of his career. And his numbers continued to hold strong despite missing 15 games with a broken foot. He averaged 20.4 points and 14.7 rebounds, finishing just behind Wes Unseld of the Washington Bullets for the league's rebounding title. It was Unseld's Bullets who kept the Celtics from repeating as world champions, defeating Boston, in six games, in the Eastern Conference Finals. Washington went on to suffer a four-game sweep at the hands of the underdog Golden State Warriors and Rick Barry in the NBA Finals.
Having dealt guard Paul Westphal to the Phoenix Suns for Charlie Scott before the 1975-76 season, the Celtics looked to beef up an already high-powered offense. Scott's 17.6 points per game, along with Cowens' 19.0 points and 16.0 rebounds per contest, propelled the Celtics to their fifth straight Atlantic Division title. Boston eliminated both Buffalo and the Cleveland Cavaliers before meeting the Suns in the now-legendary 1976 NBA Finals.
With the series tied at two games each, the Boston Garden crowd settled in for Game 5 -- the longest and one of the most memorable NBA Finals game ever. The triple-overtime affair featured numerous last-second heroics, most notably by Havlicek and the Suns' Garfield Heard.
Halicek hit a 15-foot jumper for an apparent 111-100 victory. Celtics fan swarmed the court, but the officials ruled one second remained. Westphal, called a time-out after the floor was cleared that allowed the ball to be moved to half-court for the inbounds pass. The Suns had none left, so the Celtics shot and made a technical free throw. That put the Celtics up by two. And set the moment for Garfiled's miraculous turn-around fling that forced the third overtime. Boston eventually won the contest, 128-126, then grabbed the title in Phoenix in Game 6, 87-80.
The 1976 championship marked a peak from which Cowens and the Celtics would continue to slide until the end of the decade. During the offseason, Boston traded the 33-year-old Silas, a close friend of Cowens, to the Denver Nuggets. With Silas's departure Cowens lost his enthusiasm for the game. At age 28, Cowens said he'd had enough of the NBA.
Although the retirement was short-lived -- about 30 games -- Cowens never returned to top form. He played four more seasons with the Celtics, posting combined averages of 16.6 points and 11.4 rebounds. As for the team, the aging and ultimate retirement of Havlicek, among other personnel changes, caused Boston's win total to slide-to 44 in 1976-77, 32 in 1977-78, and 29 in 1978-79.
After a 2-12 start in 1978-79 Cowens became player-coach of the weakened Celtics, a role that predecessor Russell had filled at one time. It was a struggle for Cowens. "I never had any coaching experience prior to that," he told HOOP magazine. "It was too much for me."
But the ineptitude of the team -- the worst in franchise history -- led to the drafting of the leader of the next Celtics dynasty. That would be Larry Bird. Bird's arrival in 1979 and the selection of Bill Fitch to replace Cowens as coach spawned an immediate resurgence. In 1979-80, Cowens' 10th and final year with the Celtics, Boston returned to the top of the Atlantic Division by posting a 61-21 record. It was the sixth division title during Cowens' decade with the club. For helping the Celtics to a remarkable 32-game improvement, Bird was named NBA Rookie of the Year.
Cowens retired following the 1979-80 season, but not even that second retirement was permanent. After two years away from the NBA, Cowens returned for one last gasp in the 1982-83 season when friend and former teammate Don Nelson asked the 34-year-old to play for his Milwaukee Bucks. Cowens obliged, appearing in 40 regular-season and nine playoff games, including four postseason contests against his former team. The Bucks swept the Celtics in four games in the Eastern Conference Semifinals before being eliminated by the Philadelphia 76ers in the conference finals. For the season, Cowens averaged 8.1 points and 6.9 rebounds in 25.4 minutes per game.
After the regular season, Cowens called it quits for the third and final time. He finished his career with 13,516 points (17.6 per game) and 10,444 rebounds (13.6 per game). Cowens appeared in 89 postseason games, averaging 18.9 points and 14.4 rebounds. In six All-Star Games he averaged 12.7 points and 13.5 rebounds. He played on two championship teams and won the NBA Most Valuable Player Award for 1972-73.
While Cowens' name doesn't appear near the top of career statistical charts, those who recognized his skills and what they meant to the game elected him to the Hall of Fame in 1991.
Before the 1994-95 season, Cowens was hired by the San Antonio Spurs as an assistant under new head coach Bob Hill. Two seasons later he was hired as head coach of the Charlotte Hornets and guided them to a 13-game improvement over the previous season, a remarkable record in what most people had predicted would be a rebuilding season.
After two 50-plus win seasons, he was quickly fired after a 4-11 start in the 1998-99 season. Cowens was given another shot as a head coach entering the 2000-01 season by the Golden State Warriors. That tenure was cut short when he was fired after a 8-15 start in the 2001-02 season, which gave him a career coaching record of 161-191.