Full Name:
Donald Neil Johnston
Born:
February 5, 1929 in Chillicothe, Ohio
Died:
September 28, 1978 in Irving, Texas
High School:
Chillicothe High School (Chillicothe, Ohio)
College:
Ohio State University (1946-1948)
Drafted By:
Undrafted, Signed by Philadelphia Warriors in 1951
Height:
6-8 ;
Weight
: 210lbs
Position:
Center
Nickname:
Gabby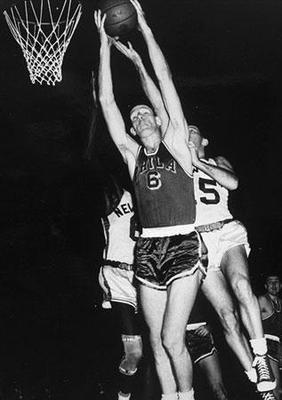 Career Statistics
- (1951-1959)
G - 516
FG% - .444
3PFG% - .
FT% - .768
Points - 10,023
PPG - 19.4
Rebounds - 5,856
RPG - 11.3
Assists - 1,269
APG - 2.5
Blocks -
BPG -
Steals -
SPG -
At 2:16 Johnston is seen. Not much footage of him in the 50's.
Honors:
6x NBA All-Star (1953-1958), 4x All-NBA 1st Team (1953-1956), All-NBA 2nd Team (1957), 3x NBA Scoring Champion (1953-1955), 3x NBA Field Goal Percentage Leader (1953, 1956-1957), NBA Rebound Leader (1955), Philadelphia Sports Hall of Fame Inductee (2009)
High School and College
Johnston attended the Ohio State University, where he starred in baseball and basketball. Johnston signed a professional baseball contract with the Philadelphia Phillies out of college and pitched two years for the Terre Haute Phillies of the Three-I League.
NBA career
The 6'9" 225-pounder went undrafted when he arrived to be Ed Mikan's backup at center in 1951. He nonetheless impressed and was named a starter the following year. This was still the physical days before the advent of the 24-Second Clock, when jump balls were used more. Johnston had good hops for the day and long arms which made him successful in jump ball situations.
In the 1952-53 season, Johnston flew to All-Pro status as a veritable one-man team. He led the NBA in scoring, was it's most accurate shooter from the floor and rated second to George Mikan in NBA rebounding. But star teammate Paul Arizin was in the military that year and the team finished last in its division.
Johnston tried to carry the team without Arizin again the following year. He added another NBA scoring title, rated third in shooting accuracy and rated sixth in NBA rebounding with teammate Joe Grabowski also rating high on the boards. He also led the league in minutes played. But the Warriors were still under .500 and out of the playoffs.
For the 1954-55 season, the 24-second clock was added. Some players retired, but Johnston welcomed the increased action. Paul Arizin returned even as other Warrior teammates did military service. The two formed a rare 1-2 punch that year with Johnston winning his third straight NBA scoring title and Arizin finishing third. Johnston also led in rebounding at 15.1 per game and was third in shooting accuracy. Johnston had also tried and made the most free throws in the NBA. He also averaged three assists per game in a stingy era for that statistic. The Warriors still barely missed the playoffs, but had their foundation for further success.
In 1955-56, the Warriors added college star Tom Gola to the squad, where he played guard next to Jack George or reserved at forward for Arizin. Philadelphia now had their strong five. Playing more of a team role, Johnston was a physical force this season, known as much for his sharp elbows as his automatic hook shot. He sometimes dunked on opponents and invited retaliation. He verbally challenged opponents. He also rated third in NBA scoring, deferring to teammate Arizin, who finished second. He led again shooting accuracy and was fourth in rebounding. He also made 80% of his free throws. Only Bob Pettit tried or made more that year. The 45-27 Warriors won the NBA's Eastern Division and then defeated the Fort Wayne Pistons and George Yardley for their first NBA title. Johnston was named NBA Most Valuable Player for 1956.
Hoping to repeat the following year, Gola was now lost to military service. Arizin and Johnston tried mightily again, finishing first and third in NBA scoring. Johnston led again in shooting accuracy and made 83% of his free throws. But the third-place Warriors sank without Gola. Gola returned for the second half of the 1957-58 season, but Johnston began show wear and was not in star form. The third-place Warriors got to the second round of the playoffs, but lost to powerful Boston and Bill Russell.
Johnston suffered a knee injury and limped through just 28 games in the 1958-59 campaign. He would never recover from it as a player.
In 1959-60, he reluctantly accepted the head coach job as Wilt Chamberlain arrived. He lasted only two seasons. He then coached the Pittsburgh Rens of the American Basketball League. He also coached the Wilmington Blue Bombers of the Eastern Professional Basketball League.
Neil Johnston was enshrined in the Basketball Hall of Fame in 1990.