Full Name:
Grant Henry Hill
Born:
October 5, 1972 in Dallas, Texas
High School:
South Lakes (Reston, Virginia)
College:
Duke University (1990-1994)
Drafted By:
Detroit Pistons, 3rd Overall, 1994 NBA Draft
Height:
6-8 ;
Weight:
225lbs
Position:
Small Forward
Nickname:
none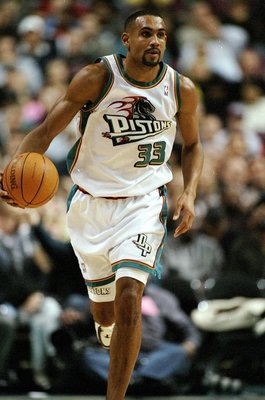 Career Statistics
- NBA (1994-2013)
G - 1,026
FG% - .483
3PFG% - .314
FT% - .769
Points - 17,137
PPG - 9.7
Rebounds - 6,169
RPG - 6.0
Assists - 4,252
APG - 4.1
Blocks - 576
BPG - 0.6
Steals - 1,248
SPG - 1.2
Honors:
1 X All-NBA First Team, 4 X All-NBA Second Team, 7 X NBA All-Star, Rookie of the Year, 3 X NBA Sportsmanship Award, 2 X NCAA Champion, ACC Player of the Year, NABC Defensive Player of the Year, NCAA All-American First Team, NCAA All-American Third Team, McDonalds All-American
Introduction
Grant Hill was born in Dallas, Texas. His father Calvin graduated from Yale with a degree in history, later attended SMU and was a three-time All-Pro running back for the NFL's Dallas Cowboys, winning the Offensive Rookie of the Year Award in 1969. His mother, Janet, is a Wellesley graduate. After his father's NFL career ended, the family settled in Reston, Virginia, where Grant became a high school superstar at South Lakes High School and he was selected for the 1990 McDonald's All-American Team.
College
When the time came to choose a college, Hill's mother states in the Fox Sports documentary Beyond the Glory that she wanted him to attend Georgetown, while his father preferred the University of North Carolina. Hill decided to attend Duke University, playing four years with the Blue Devils, winning national titles in 1991 and 1992. Duke became the first Division I program to win consecutive titles since UCLA in 1973. Despite losing two of the biggest contributors on the Blue Devils, Christian Laettner (in 1992) and Bobby Hurley (who both went on to play in the NBA), Hill led Duke to the championship game once again in 1994, but ended up losing to the Arkansas Razorbacks. Hill won the Henry Iba Corinthian Award as the nation's top defensive player in 1993, and in 1994 he was the ACC Player of the Year. During his collegiate career, Hill became the first player in ACC history to collect more than 1,900 points, 700 rebounds, 400 assists, 200 steals and 100 blocked shots. As a result of his successful college career, he became the eighth player in Duke history to have his
jersey
number (33) retired. After his freshman season at Duke, Hill played on the bronze medal-winning U.S. team at the 1991 Pan American Games, held in Havana, Cuba.
Hill also is widely known for his role in a desperation play in an NCAA tournament regional final against Kentucky in 1992, which is considered by many to be one of the greatest college basketball games of all time. With Duke down 103–102 in overtime and 2.1 seconds remaining after Kentucky's Sean Woods hit a floater, an unguarded Hill heaved the in-bounds pass 75 feet across the court into the hands of Laettner, who dribbled once and spun before pulling up to make the game-winning jumper from just outside the free-throw line as time expired.
NBA
Grant Hill was drafted by the Detroit Pistons with the third pick in the NBA Draft after graduating from Duke in 1994. In his first season, he averaged 19.9 points, 6.4 rebounds, 5.0 assists and 1.77 steals per game, and became the first Pistons rookie since Isiah Thomas in 1981–82 to score 1000 points. Hill ended up sharing NBA Rookie of the Year Award honors with Jason Kidd of the Dallas Mavericks, becoming the first Piston since Dave Bing in 1966–67 to win the award. Hill also won the Sporting News Rookie of the Year Award. He was named to the all-NBA First Team in 1997, and all-NBA Second Teams in 1996, 1998, 1999 and 2000. Hill also regularly played in the NBA All-Star Game, where he made history by being the first rookie to lead an NBA All-Star fan balloting in (1994–95) with 1,289,585 votes, narrowly defeating Shaquille O'Neal. In fact, Hill became the first rookie in all major sports to get the most votes for an All-Star game.
In his second season (1995–96), he once again led the All-Star fan balloting, this time edging Michael Jordan (Jordan's first All-Star game after returning since retiring in 1993). During the 1995–96 season, Hill showcased his all-round abilities by leading the NBA in triple-doubles (10). He also won a gold medal at the 1996 Summer Olympics in Atlanta as a member of the U.S. men's basketball team, where he had the team's fifth highest scoring average (9.7) and led the team in steals (18). In 1996–97 season, Hill averaged 21.4 points, 9.0 rebounds, 7.3 assists and 1.8 steals per game. He became the first player since Larry Bird in 1989–90 to average 20 points, 9 rebounds and 7 assists in a season, an accomplishment that has not been duplicated since. Once again, Hill led the league in triple-doubles, where his 13 triple-doubles represented 35 percent of the league's triple-double total that season. He was the league's Player of the Month for January and was also awarded NBA's IBM Award, given to the player with the biggest statistical contributions to his team. He finished third in MVP voting, behind Karl Malone and Michael Jordan.
Much like Scottie Pippen with the Bulls, Hill assumed the role of a "point forward" in Detroit, running the Pistons' offense. As a result, between the 1995–96 and 1998–99 NBA seasons, Hill was the league leader in assists per game among non-guards all four seasons. In the lockout-shortened 1999 season, as he led his team in points, rebounds and assists for the third time, Hill joined Wilt Chamberlain and Elgin Baylor as the only players in NBA history to lead their teams in scoring, rebounding and assists more than once. Hill and Chamberlain are the only two players in league history to lead their teams in points, rebounds and assists per game three times. Hill was selected to play in the 1998 FIBA World Championship, but in the end no NBA players played in this tournament due to the lockout.
In 1999–2000 season, Hill averaged 25.8 points while shooting 49% from the field, the season's third highest scoring average, behind MVP Shaquille O'Neal and Allen Iverson. He averaged 6.6 rebounds and 5.2 assists per game. However, despite Hill's individual accomplishments in Detroit, the Pistons never made it far in the playoffs, either losing in the first round (1996, 1997 and 1999), or missing the playoffs entirely in the 1994–95 and 1997–98 seasons. The 2000 playoffs would be no different. On April 15, 2000, 7 days before the start of the playoffs, Hill sprained his left ankle in a game against the Philadelphia 76ers. He continued to play until the first round playoff series against the Miami Heat, in which his injured ankle got worse and Hill was forced to leave halfway through game 2. Eventually, the Heat swept the Pistons 3–0. Hill was initially selected for the 2000 Olympics U.S. team, but could not play due to his ankle injury, which would prove to be a major liability for many years to come.
After the first six seasons of his career, before his ankle injury, Hill had a total of 9,393 points, 3,417 rebounds and 2,720 assists. Oscar Robertson, Bird and LeBron James are the only three players in league history to eclipse these numbers after their first six seasons.
As an unrestricted free agent, Hill had planned to sign with the Orlando Magic. On August 3, 2000, however, a sign and trade deal allowed Hill to receive a slightly more lucrative contract while Detroit received at least some compensation for losing him. The Pistons traded Hill to Orlando for Chucky Atkins and Ben Wallace. The Magic hoped he would team up with budding superstar, Tracy McGrady, who had been signed away from the Toronto
Raptors
at that time, to return Orlando among the NBA elite. But Hill was hampered by ankle injuries ever since his arrival in Orlando, playing in only four games in his first season with the Magic, 14 games in his second and 29 in his third. He was forced to sit out his entire fourth year with Orlando (2003–04). Meanwhile, the Pistons, who had defeated the Magic in the 2003 Playoffs, but ended up losing to the New
jersey
Nets in Eastern Conference Finals, won the championship the following year in 2004.
In March 2003 Hill underwent a major surgical procedure in which doctors re-fractured his ankle and realigned it with his leg bone. Five days after the surgery was performed, Hill developed a 104.5 °F (40.3 °C) fever and convulsions, and was rushed to a hospital. Doctors removed the splint around his ankle and discovered that Hill had contracted a potentially fatal methicillin-resistant Staphylococcus aureus (MRSA) infection. He was hospitalized for a week and had to take intravenous antibiotics for six months.
The 2004–05 season saw a return to the old Grant Hill, who was so popular earlier in his career. Hill, though hampered by a bruised left shin that caused him to miss several games, started and played 67 games for the Magic, well over the combined amount of games he played for the Magic the previous four seasons. He was named the Eastern Conference player of the week for the week between November 15–21, 2004. Over the season, Hill averaged 19.7 points per game on a .509 field goal percentage. Fans voted him an All-Star starter again, and he led the Eastern Conference All-Star Team to a victory over the West. In addition, at the conclusion of the season, Hill was awarded the Joe Dumars Trophy presented to the NBA Sportsmanship Award Winner.
During the 2005–06 season Hill was once again injured frequently as nagging groin injuries kept him sidelined for much of the first half of the season, limiting him to 21 games. He got a sports hernia that was caused by an uneven pressure on Hill's feet while he was running, due to concerns that he could re-aggravate the injury on his left ankle if it got too much pressure. Hill underwent surgery for the hernia and stated that he would consider retirement if he had to get another surgery.
In the 2006–07 season Hill returned from injuries despite numerous rumors surrounding his retirement. Hill received ankle rotation therapy from specialists in Vancouver, BC during the off-season and stated that he had regained much motion in his left ankle. Hill returned to the Magic lineup, starting at the shooting guard position. Despite having problems with injuries to his left knee and a tendon in his left ankle, Hill managed to play 65 games, two short of the highest number of games he played over a single season as a member of the Magic. He finished the season with averages of 14.4 points, 3.6 rebounds and 2.1 assists per game. This season would see Hill return to the playoffs for the first time since 2000, his first playoff appearance with the Magic. The 8th seed Magic would meet Hill's old team, the Detroit Pistons, in the first round. The Pistons' vast playoff experience would prevail over the inexperienced Magic, who had not seen significant post-season action for some years, and despite having some close games, the series would end with a 4–0 Pistons sweep, leaving Hill undecided on whether to return for the 2007–08 season with the Magic, sign with another team, or retire.
Hill became an unrestricted free agent on July 1, 2007. On July 5 Hill's agent, Lon Babby, said Hill intended to sign with the Phoenix Suns on July 11 (the first day free agents can officially sign contracts). Hill earned $1.83 million for 2007–08 with a $1.97 million player option for the next year. Hill was named captain along with Steve Nash. Hill was given permission by Suns Ring of Honor member, Alvan Adams, to wear his familiar No. 33 with the Suns. Hill adapted well to the Suns' up-tempo style, averaging double figures in points as a key role player for Phoenix in the early months of the 2007–08 season. He played in the team's first 34 games before an emergency appendectomy on January 9, 2008, sidelined him for two weeks. Despite being bothered by multiple injuries throughout the season, Hill had his first 70-game season since leaving Detroit, averaging 13.1 ppg, 5.0 rpg and 2.9 apg in the process.
Playing for the Phoenix Suns in the 2008–2009 season, Hill appeared in all 82 games for the first time in his career and averaged 12.0 ppg, 4.90 rpg, and 2.3 apg, scoring 27 points and 10 rebounds in the Suns' season finale.
On July 10, 2009, the Associated Press reported that Hill decided to re-sign with the Phoenix Suns for a 2-year deal, despite an offer from the New York Knicks for the full mid-level exception and the Boston Celtics offering Hill the bi-annual exception. The first year of the contract is believed to be worth around $3 million with the second year at Hill's option.
In 2010 the Phoenix Suns advanced to the Western Conference Semifinals, marking Hill's first playoff series victory, and making him the first NBA player in history to win his first playoff series after 15 years in the league. After sweeping the San Antonio Spurs 4-0, the Suns then moved to the Western Conference Finals to face the Los Angeles Lakers, but lost in six games (4-2).
In 2010, he was chosen as the tenth-smartest athlete in sports by Sporting News.
On June 8 Hill exercised his option for the 2010–11 season. The Suns underwent two major roster changes in 2010–11. During the pre-season teammate Amar'e Stoudemire left for New York while Hedo Türkoğlu, Josh Childress and Hakim Warrick joined the Suns; within a year they also were traded for three other players. Hill became one of seven all-time NBA players to average 13 or more points at 38 years of age or older. On January 15, 2011, Hill passed the 16,000 career points milestone in a win over the Portland Trail Blazers.
On December 9, 2011, Hill decided to stay with the Phoenix Suns for one year, accepting a $6.5 million contract.[9] By the end of the 2011-12 season, Hill had reached 17,000 career points, ending the season 78th on the all-time NBA scoring list (82nd NBA/ABA), 79th in career assists (83rd), and 66th in career steals (71st).
After his contract with the Suns expired, Hill was pursued by multiple contenders, including the Los Angeles Lakers, the Miami Heat, the New York Knicks, the Los Angeles Clippers, and the Oklahoma City Thunder. On July 18, 2012, Hill signed a contract with the Clippers. Hill suffered a bruised bone in his right knee in the preseason which kept him out for three months. He then made his debut with the Clippers on January 12, 2013 against the Orlando Magic.
On June 1, 2013, Hill announced his retirement from professional basketball after 19 seasons in the NBA, two days before the co-rookie of year in his draft class, Jason Kidd, announced his.