Full Name:
Artis Gilmore
Born:
September 21, 1949 in Chipley, Florida
High School:
Carver High School (Dothan, Alabama)
College:
Gardner–Webb (1967–1969), Jacksonville (1969–1971)
Drafted By:
Chicago Bulls, 1st Overall, 1971 NBA Draft
Height:
7-2 ;
Weight
: 240 lbs
Position:
Center
Nickname:
The A-Train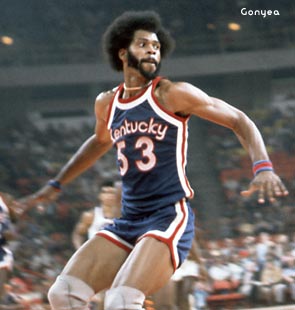 Career Statistics
- (1976-1988)
G - 909
FG% - .557
3PFG% - .077
FT% - .713
Points - 15,579
PPG - 17.1
Rebounds - 9,161
RPG - 10.1
Assists - 1,273
APG - 2.0
Blocks - 1,747
BPG - 1.9
Steals - 470
SPG - 0.5
Honors:
1 x All NBA Defensive Second Team, 6 x NBA All-Star. ABA Honors: ABA champion (1975); ABA Playoff MVP (1975); ABA MVP (1972); ABA All-Star First Team (1972, '73, '74, '75, '76); ABA All-Defensive Team (1973, '74, '75, '76); ABA All-Rookie Team (1972); Five-time All-Star (1972-76); All-Star MVP (1974), Elected to Naismith Memorial Basketball Hall of Fame 2011
High School and College
Gilmore played basketball at Carver Highschool. He played college basketball at the Gardner-Webb Junior College for two years and at Jacksonville University for two years, leading the Jacksonville Dolphins team to the NCAA title game in 1970, where they lost 80-69 to the UCLA Bruins. During the two years that Gilmore played NCAA basketball at Jacksonville, he became one of only five college basketball players ever to average at least 20 points and 20 rebounds over his career. Gilmore led the NCAA in rebounding both years at Jacksonville, and his career average of 22.7 rebounds per game is still the highest in NCAA Division I history.
ABA
Gilmore began his professional career with the Kentucky Colonels of the American Basketball Association for the 1971-72 season, signing a record high-paying contract. He was so immediately dominant that he earned the rare distinction of being selected both the Rookie of the Year award and the league Most Valuable Player award for his first season.
Over his five-year ABA career, Gilmore led the ABA four times in rebounding average, twice in both field goal percentage and blocks per game, and once in personal fouls. He was named to the All-ABA First team five straight seasons, and the All-Defense team four times. He played in the ABA All-Star Game all five years he was in the league, earning the 1974 game's MVP. The capstone of his time in the ABA was leading the 1974-75 Kentucky Colonels to the 1975 ABA championship and being named the ABA Playoffs Most Valuable Player.
During his days as an ABA dominator, Gilmore established league records for career field goal percentage (0.557), career blocked shots (750), blocked shots in a season (287 in the 1973-74 season), and rebounds in a game (40).
NBA
Number 1 NBA draft pick
The ABA ended its existence after the 1976 season, with four of its teams (Denver Nuggets, Indiana Pacers, New York Nets, and San Antonio Spurs) joining the NBA in the ABA-NBA merger, and the remaining teams, including Kentucky Colonels, folding. Since his team, the Kentucky Colonels, had folded, Gilmore went into the special 1976 ABA dispersal draft, and he was chosen with the first overall pick by the Chicago Bulls. While not the same awesome force that he had been in the ABA, after four All-Star selections in five solid basketball seasons in Chicago, Gilmore was traded to the San Antonio Spurs in 1983. Twice again an All-Star in San Antonio through 1987, he rejoined the Bulls for part of the 1988 season before finishing his NBA career with the Boston Celtics in 1988.
Gilmore played the 1988-89 season with Arimo Bologna of the Italian league, where he averaged 12.3 points and 11.0 rebounds and made the European All-Star Team.
[edit] NBA achievements
Gilmore played in a total of six NBA All-Star Games. He led the NBA in field goal percentage in four consecutive seasons, including a career best 67.0% during the 1980-81 season — the third highest percentage in NBA history. He remains the NBA's career leader in field goal percentage (minimum 2000 shots made) with a 59.9 percentage.